Email's great, isn't it? You can just type up a quick little message to someone to send them some information or answer a question or ask them to do something for you.
In the "asking them to do something for you" department, though, things can get a little hairy. After all, as easy as it is to send someone an email, it's just that easy for both sender and receiver to forget it's there.
So, whaddya do to keep track of all those little requests (both the ones you send and the ones you receive)?
If you've got requests and responses flying back and forth via Outlook email, you need to:
Make sure you don't forget what you've requested from others;
Make sure your request doesn't drift off the other person's radar; and
Make doubly sure you don't drop the ball on anything anyone's asked you for, either.
Here's just about the simplest way for a busy person like you to manage all this: flagging incoming and outgoing emails for follow-up.
Flagging Requests You Receive
(Note: to view this full-screen, click the double-arrow button near the lower-right-hand corner of the video player.)
Let's start with an easy one: flagging an email in your Inbox for follow-up or other action.
Say your boss sends you an email on Tuesday that says, "Do a search for any judgments on file for XYZ Corporation for Friday's real estate closing." You're busy with another project, but you want to make sure you get your search results delivered in time.
Take a look at the message in your Inbox:
See that flag that's circled on the right? If you left-click on that flag with your mouse, Outlook will (by default) set the flag to the action Follow Up with a due date of today.
If you right-click that flag, however, you get lots more choices: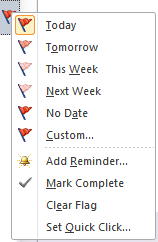 As far as deadlines go, you can choose:
Today
Tomorrow
Next week (basically, the following Monday)
No date (follow up whenever – no deadline)
Custom (allows you to set up whatever date you want)
(Notice that the closer the deadline, the redder the flag is. That's a quick visual way to see what deadlines are urgent versus ones that are down the road a bit.)
If you click Add a Reminder on the menu above, you can have Outlook pop up a reminder window (just like the one you see for calendar appointments) at the time and date you choose: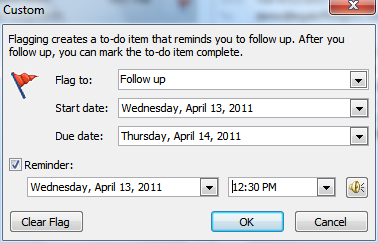 I'll just point out a few things here:
In addition to being able to choose the date and time your reminder pops up, you can also set Start and Due Dates independently (they default to the same date). This can affect when the flagged email shows up in your Tasks/To Do list or on your Calendar (depending on your settings).
In addition to the action Follow Up, you can also choose from Call, Do Not Forward, For Your Information, Forward, No Response Necessary, Read, Reply, Reply to All, and Review. That may be helpful if you want to, say, group all your phone calls or reading assignments together.
You can customize the reminder sound by clicking on the speaker button and browsing to a different sound file (usually one with a .wav extension), or you can turn the reminder sound off altogether if all you want is a silent pop-up window.
Flagging Requests You Send
(Note: to view this full-screen, click the double-arrow button near the lower-right-hand corner of the video player.)
This flagging requests people make of you is all well and good, but what about all that stuff you're asking for? That deserves a little attention, right?
Outlook's got you covered, baby. And in a couple of different ways.
Reminding your recipients to respond
First, we want to make sure your recipients don't let your request get shoved down in their Inbox. After all, out of sight is out of mind.
When you open up a New Message window to start composing, it'll look something like this:
If you look a little more closely on the Message tab (the one showing by default), you'll see a drop-down called Follow Up. This is where you can set a reminder to pop up for your recipient, prompting him/her to respond to your email.
In Outlook 2007, the drop-down looks like this:
Weirdly, in version 2010, Microsoft didn't see the need to make this function as clear, so you have to click on Add Reminder to get to the right dialog box to add the recipient's flag:
In either version, you end up with a dialog box that looks like this:
Here's where you can set a reminder for your recipient by checking the Flag for Recipients checkbox. The reminder will default to today's date, but you can re-set it to whenever you like. For example, if on Tuesday you send out a court docket for staff to review no later than Wednesday noon, you can set a reminder for Wednesday at 11:30 a.m. to give your recipient(s) one last chance to make the deadline.
Reminding yourself to follow up, too
While you're here, you can also set a reminder for yourself to follow up on email you send. The good news is it can be completely independent of the one you set for your recipient – different day, time, and action. For example, if your recipient's deadline is 4:30 p.m. Wednesday, you can set his/her reminder for noon that day (to give plenty of notice of a looming deadline) and set your own follow-up flag to 4:00 p.m. so you can make a quick call to see if everything's on track.
To set your reminder, just check the Flag for Me box:
Again, the dates will default to today, but you can change those.
Keeping track of flagged emails
Once you've started flagging emails – incoming and outgoing – you need a way to review them at a glance to see what's falling through the cracks. Click on your Tasks folder on the left-hand side of your Outlook window:
In the Tasks folder, the first folder you'll see – To-Do List – is a list of all of the flagged emails that have not been marked complete.
There it is – a handy list of all outstanding requests, both those you've made of other people and those you've received from them. By default, they're sorted by Due Date, with the most urgent on top, but even that's adjustable.
Now that you know how to set reminders for all those requests you're getting/sending, how much more efficient will you become? Let us know in the comments below!