Unless otherwise noted, all instructions and screenshots are from Microsoft Office for Windows version 2016.
We have this recurring problem where I work. I bet you have it, too.Sometimes, our Word documents (particularly when they've been generated by our time & billing software) leave huge gaps of white space between a heading and the text that's supposed to go right under it by mysteriously breaking the page right after the heading.Except, there's no page break! No one's inserted a hard page break anywhere — the document's just stubbornly refusing to put text that will clearly fit on page 1 on page 2.What's going on?
It's Block Protect gone bad, that's what. And it's really easy to fix. So stop scratching your head and do this instead:
Hit CTRL-A to highlight the entire document
Go to the Paragraph dialog box (on the Home tab, click the small launcher arrow in the bottom right-hand corner of the Paragraph section)
Click on the Line and Page Breaks tab

Click this launcher arrow to get to the Paragraph dialog box …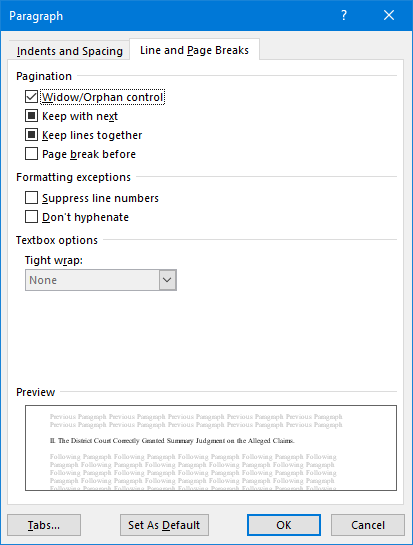 See how all those check marks under Pagination (Widow/Orphan control, Keep with next, Keep lines together) look grey or black instead of a regular checkmark? That means that some of your text is block protected and some isn't.
I could lead you through the whole diagnostic process, show you the "reveal codes" view and let you see what's happening. But, hey, we're both in a hurry — let's just fix the sucker and move on to bigger and better things. (I've done the long "here's what's happening" video on this below.)
Uncheck all those boxes. You might have to click twice to get rid of the check marks
Click OK to go back to your document
Voila! No more weird page breaks!
Of course, you might have to go through your document to make sure you don't have any widows and orphans, headers at the bottoms of pages, etc., in which case you'll want to turn block protect on for just that small section of text. But at least you'll have a clean slate to work with.
Here's a video (showing Word 2010 – the process really doesn't change between versions) showing exactly how this works:
[To view full-screen, hover your mouse/touch your finger/stylus over the video screen, then click the expand button near the lower right-hand corner of the video player]