To print an envelope in Microsoft Word:
Go to the Mailings tab on the Ribbon
In the Create command group on the left, click Envelopes
On the Envelopes tab of the Envelopes and Labels dialog box, address and print your envelope.
One of the most basic functions in Microsoft Word is printing envelopes and labels. You'd think that such a basic function would be intuitive. It's not. One of the most frequent questions I get from longtime WordPerfect users is, "Where on earth are the envelopes (or labels) in Word?"
Where to find envelopes in Word
In all the Ribbon-based versions of Microsoft Word, you can find the envelopes and labels feature on the Mailings tab.
Over on the far left in the Create command group are Envelopes and Labels. Click Envelopes to start:
You'll notice immediately that the dialog box you get is for both Envelopes and Labels. Depending on whether you clicked on Envelopes or Labels on the Mailings tab, the correct tab on this dialog box will be selected by default. However, you can always click on the other tab if you've changed your mind.
At this point, you could simply type something in the Delivery address field, put your return address in the indicated field (if it's not there already, which it would be if Word had already saved it there), and hit the Print button. And most of the time, that'll work just fine.
Note: Word will insert the delivery address for you if you place your cursor right before the address:
Formatting your envelope with Options
Let's explore this Envelopes tab a bit further so you'll know how to tweak the settings on your own. Click the Options button.
Since I'm in the U.S., this is defaulting to a standard No. 10 envelope, but the drop-down provides a whole list of choices. Microsoft Word also has some embedded default settings for the placement of both the delivery and return addresses, but you can adjust those too, as well as the font used.
You can switch the size envelope by using the drop-down under Envelope size:
If you want to change the font of either the delivery or return address, click Font under either Delivery address or Return address and choose the font, font style, and size within that dialog box, then click OK:
Depending on the size envelope you chose, Word will automatically calculate an appropriate placement for the return and delivery addresses. If you want different settings, you can either use the spinners beside Delivery address or Return address to increment the settings (for U.S. users, these settings will be in inches), or you can type a custom horizontal (from left) and vertical (from top) setting into the From left and From top fields:
Let's switch over to the Printing Options tab:
Again, Microsoft Word (based on your printer driver) will set a default feed method for your envelope. Most of the time, you can just leave this setting alone. However, if you find that your envelope needs to be fed into the manual feed or envelope tray in a different way or position, you can reset that here by clicking the picture that looks most like your printer's feed method and choosing either Face up or Face down. You should consult your printer's help files or manual to determine the best setting to use.
Tip: You can usually look at your printer's manual feed tray to determine whether manually-fed documents like envelopes should be inserted face up or face down and even which end should be inserted first:
Printing your addressed envelope
Going back to the Envelopes and Labels dialog box, we see that we have two options for producing the envelope: Print and Add to Document. Clicking on Print, obviously, sends the envelope straight to the printer. If you are manually feeding your envelope from your printer's manual feed tray, be sure you've already inserted it correctly per your printer's instructions.
Clicking on Add to Document inserts a page at the top of your document formatted as an envelope:
One of the advantages of choosing Add to Document is that you can go back and change the envelope's font or other formatting settings if you need to. A disadvantage, however, is that you must be careful how you print the document, particularly if the envelope must be manually fed and the remainder of the document does not. The easiest way to print just the envelope is to go to the File tab and select Custom Print and type "1" into the box beneath: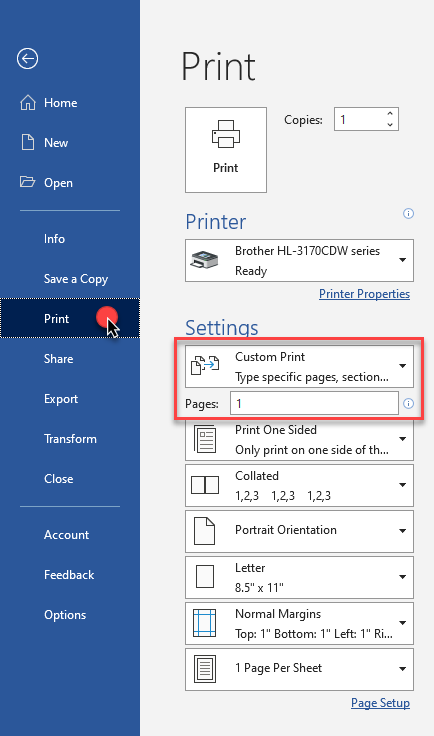 Or, you can click your cursor somewhere into the envelope, go to the File tab and choose Print Current Page:
Experiment and figure out which works best for you and your setup.
My favorite method: Save an envelope template
Speaking of "what works best for you," this brings me, as an aside, to my own preferred method for creating envelopes. I have saved a blank template already formatted as an envelope, with the margins set up to place the delivery address 2.5 inches from the top and 4.0 inches from the left (standard for a no. 10 envelope).
To do this, I went to the Layout tab (Page Layout in earlier versions of Word) and performed several actions.
First, I set the Paper Size/Type to a No. 10 envelope:
Next, I set the page Orientation to Landscape:
Finally, I set the margins to 2.5 inches top, 4.0 inches left, and 0.5 inches bottom and right.
Setting up paper size, orientation and margins within the Page Setup dialog box
And yes, it's possible to do all these steps within the Margins and Paper tabs of the Page Setup dialog box itself by clicking on that tiny grey launcher arrow in the lower right-hand corner of the Page Setup section of the Layout tab (or double-clicking on the horizontal or vertical rulers if those are in view):
Embedding your return address into your envelope template
If you want a pre-printed return address embedded into your envelope template, you can place that address into the header of your template. To do that, double-click into the header section of your envelope:
You'll notice that, because you've set your left margin at 4.0" (or whatever measurement you chose) for your delivery address, your header starts at that measurement too. That's clearly not what you want for your return address!
To fix that, right-click and choose Paragraph:
That will take you to the Paragraph dialog box. There, you can set a negative indentation to move your return address over to the left:
If you want to reposition your return address relative to the top of the page, adjust the Header from Top setting in the Position command group of the Header & Footer tab (visible whenever your cursor is positioned inside a header or footer).
Now you can type in your return address:
Click Close Header and Footer in the contextual tab shown above to finish.
Saving your formatted envelope as a template
To save your envelope as a template, go to the File tab and click Save As > Browse, and in the File Explorer window, be sure to choose a template format (in this case, .dotx):
Here's a video with more information on saving templates (including setting up your Personal Template folder and saving templates to it):
The advantage of an envelope template: Always available!
Now that I have an envelope template already saved, I always have an envelope form I can start using immediately. This enables me to print multiple letterhead envelopes throughout the day. All I have to do is copy and paste addresses from letters in progress and print from the envelope form. Once I have the envelope(s) I need, I can simply delete the address(es) and reuse the form.
Word 365
Adding to the list of limitations of Word 365, Microsoft advises that, while the online version can open a document previously formatted as an envelope, you can't create a new envelope or print one.