Ever needed to be able to change the page numbers in the middle of a Microsoft Word document (an appellate brief, for example)? Like, switching from Roman numerals to Arabic numerals or just not having page numbers at all? Don't tear your hair out, my pretty. Help is here!
The secret to doing this is found in the Word feature called Sections. Sections will (among other things) allow you to have distinct headers and footers on different pages of the document. So, using that appellate brief as an example, you can have no page numbers showing up on your cover page, those little lower-case Roman numerals (you know, i, iv, ix, etc.) on the pages with the table of authorities, etc., and start yet again with regular Arabic numbers (1, 2, 3, etc.) when the main part of the brief starts.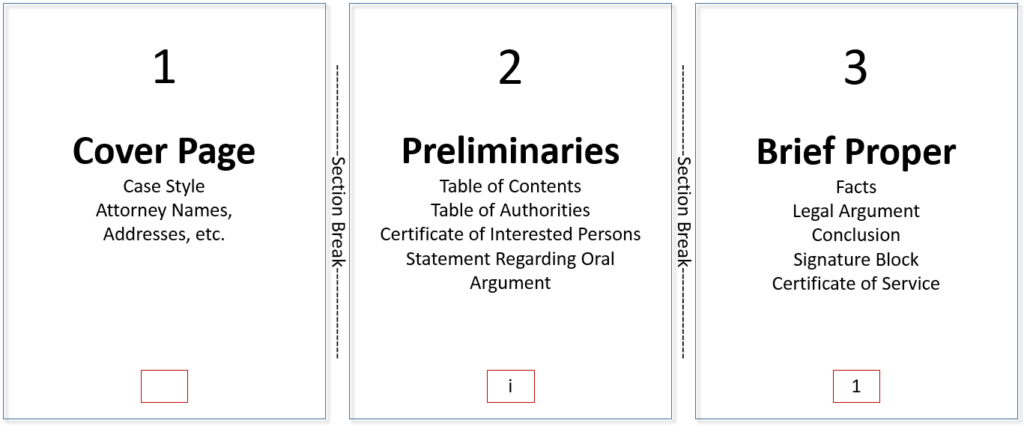 It's exhausting to even think about, isn't it? But, as I say, it's easy … when you know how. And this is a trick that will serve you in good stead in other situations. For instance, ever have one of those long agreements where everybody gets their own signature page because they've got to execute the agreement in subparts and send the pages back? And of course, somebody (I won't name any names) wants each signature page to have its own customized header. Well, the next time you're asked, "Can we do that?" you can answer confidently, "Yes, we can!" (Where have I heard that phrase before?)
Okay, this is such a cool trick that the video gets divided into two parts: one for setting up the sections correctly, and one for setting up the footers and the page numbers.
Whew! Okay, that seems like a lot of steps, but there are really only three:
Insert section breaks between the pages where the pagination style will change. In the demonstration brief, there was one section break between the title page and the first page of the Tables of Contents/Authorities, and another section break between the Tables of Contents/Authorities section and the main body of the brief.
Break the link between the Section 1 footer and the Section 2 footers by toggling off the Same As Previous button/checkbox so you can insert distinct page numbers in each section
Insert the appropriate style of page number in each distinct footer, remembering to not only format the style of the page number, but also to start page numbering again at "1" (or "i") at the beginning of each new section.
Now, I know this seems complicated, but I promise, once you get the hang of it, you'll understand the logic behind the use of sections to control distinct headers/footers. (And for those of you missing the "Suppress Header/Footer" and "Header/Footer A/B" feature in WordPerfect, here's your compensation: this allows you to have infinite sets of headers and footers in your document, not just two!)
Note: If Section numbers, etc., are not showing up in your Status Bar at the bottom of your screen in Word, click here for the tutorial on customizing the Status Bar.
This content is part of a course
What you've learned here is just a small part of my Brief Builder's Workshop course, where you can learn all sorts of skills for building better briefs, such as creating a Table of Authorities and configuring a Table of Contents (two ways). Click here for more information.